Product Category
Product Search
Product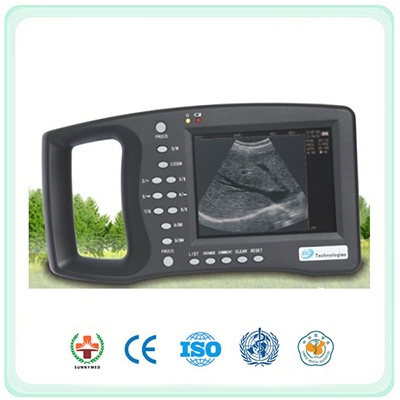 SV4000 Vet ultrasound scanner
SV4000 Vet ultrasound scanner
Product Type: ultrasound scanner
Place of origin: Guangdong
Model No: SV4000
Price Terms: FOB Guangzhou
Payment Terms: T/T.L/C.Western Union.MoneyGram
Package: Carton
Minimum Order: 1 set/sets
Delivery Time: 15 days after receive payment
Brand Name: SUNNY
Device safety classification:
●According to the degree of safety of application in the presence of a flammable anaesthetic
mixture with air or with oxygen or nitrous oxide:
MAV4000 can not be used in situation of mixture of inflammable anaesthesia gas and air or nitrous oxide.
●Classify as per work system:
MAV4000 is continuous operation device.
●Classify as per harmful liquid leakage:
The main unit of MAV4000 is conventional device; the probe is a device of resistance to flooding.
●Classify according to shockproof type:
MAV4000 is GroupⅡ device powered by external adapter.
●Classify according to shockproof level:
MAV4000 is Type B Applied part
General tips for device operation
In operation
1.Heat radiation holes are strictly prohibited to be covered.
2.After closedown, do not switch on the device within 2 - 3 minutes.
3.On scanning, if any abnormal case is found, stop scanning immediately and shut down the device.
Environmental requirements on normal operation:
a) Environment temperature range: +10℃~ +40℃
b) Relative humidity range: 30%~ 75%
c) Atmosphere pressure range: 70KPa~ 106KPa
Environment requirements on device storage and transportation:
a) Environment temperature range: - 20℃~ +55℃
b) Relative humidity range: 10%~ 100%
c) Atmosphere pressure range: 50KPa~ 106KPa
7. Do not hit the fragile TFT-LCD display. If it cracks, deal carefully with it in case the liquid crystal gets into eyes or mouths.
8. Must not hit the inner rechargeable lithium battery nor throw it into fire in case it trigger an explosion;Do not short circuit the battery
output electrodes in case the battery be damaged; and please use the original binding charger to charge the battery. More over, because
used battery will cause environment pollution, please handle the battery correctly for recovery processing.
9. Must not disassemble the power supply adapter. If failures happen, it should be handled by the professional; the charging output can
only be used for charging the battery of the device, any improper use on other battery may cause explosion, fire and other unexpected hazards.
10. Must not short circuit the output of the adapter,a long term short circuit shall result in adapter damage.
11. Please use standard power cord as the input line of the network power supply for the adapter to reduce risk.
12. Eaceni Technologies Co., Ltd. shall not take any responsibility for any risk resulted from propelled /unauthorized re-fitment by the users.
13.To disconnect the device from the power supply network by unplug the adapter from the power supply network.
14.Ultrasound might cause hazard on human body so long time radiation should be avoided. Refer to appendix B and C for sound output parameters.
Contraindication:
It is suggested not to probe the part with wound or acute inflammation to avoid cross infection.
Brief introduction
1. The device adopts technologies such as microcomputer control and digital scanning converter (DSC), large dynamic broadband
low- noise preamplifier, logarithmic compression, dynamic filtration, edge enhancement etc. to ensure legible, stable and high resolution images.
2. Four display modes: B, B+B, B+M, M; Can realize image real time display, frozen, zoom; remark case history number, age, sex; measure distance,
circumference, area, heart rate and gestation age;Image gray scale 256 levels.
3. Combined power supply mode of AC adapter and built-in Li-ion chargeable battery, 3 battery charging modes
and the specialized brownout mode enables more lasting battery operation.
4. 5 inches TFT-LCD display and programmable device (FPGA) and surface mounted technology (SMT) make
this device compact and light in weight.
5. PAL-D video output. With mouse mouthpiece.
6. Jet molding enclosure with hand-held structure makes it convenient for out diagnoses.
7. The device consists of mainframe, probe and adapter.S3/3.5MHz waterproof mechanical sector scanning probes for option.
Range of application
Suitable for diagnosis on swine, equines, bovines, sheep, cats and dogs and other animals.
Technical specification
Model

MAV4000

Probes

3.5MHzMechanical sector

Displayed Depth (mm)

120-190

Maximal detect depth (mm)

≥140

Resolution

(mm)

Lateral

≤3 (depth≤80)

Axial

≤1 (depth≤80)

Blind area (mm)

≤8

Geometric position Precision (%)

Horizontal

≤15

Vertical

≤10

Monitor size (inch)

5.0 TFT-LCD

Display modes

B、B+B、B+M、M

Image gray scale

256 levels

Image multiplying factor

×1.0, ×1.2, ×1.5, ×2.0

Measure functions

Distance, circumference, area, heart rate, gestation age

Character display

Case history no., age, sex

Battery capacity

2200mAh

Mainframe power

13W at non-charging operation / 25W at charging operation

Adapter power consumption

45W

Mainframe

800g